26
« on: January 10, 2023, 04:44:38 PM »
Hi All,
The Beaumont macadamia trees are full of nuts. In addition to processing airlayer orders right now(list is pretty full right now but can take requests + a small deposit ($) for each airlayer that will be put on the trees come February/March) I am collecting lots of fresh nuts. Seeds will be priced by volume (not including shipping):
1-10 nuts: $2/each
10-100 nuts: $1.75/each
100+ nuts $1.50/each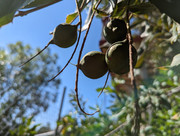 PayPal Note: PayPal is charging 3.49% (on total, including any taxes invoiced as well as shipping which makes no sense at all to me) + $0.49 on each transaction. I will be including these fees in the buyers invoice as I cannot eat them with my low margins. I also will not be including CA sales tax (7.75% that I report to the state) in the base price for my seeds/scions. So, expect higher invoiced prices on all transactions done through PayPal. I hate doing this and am open to other ways of doing sustainable online sales. If you are local and are paying in person, disregard this PayPal fee. Thanks!
Broken down:
$10 Item
+7.75% CA Sales Tax
=$10.78
+$5 Shipping (No CA Sales Tax)
=$15.78
+3.49% Overall PayPal Percentage-Based Fee
+$0.49 Flat PayPal Fee
=$16.33 Final Invoiced Total
If interested please message me with an address and email to send the invoice to. Have a great week all.
James