1
« on: September 20, 2021, 04:47:58 PM »
I trimmed my LZ today. It has been overcast today plus I have a tarp over them. Lots of cuttings that I can send out tomorrow. I should have enough to fill two of these boxes. Email me directly at zzendo7 ... AT .....gmail DOT com
I know they will not be prepped. I charge $20 to fill a priority mail box with the scions that I put in a plastic bag with some wetted newspaper. You pay for the medium sized priority mail box which is about $17. You do the math. I think the US Post Office is now back to normal for priority mail, going by other stuff I have recently sent. Florida probably late for grafting but California, Arizona is not. So I think.
I also have an Orange Sherbet tree that I have not tip pruned all season. I can take scions off it tomorrow to send you a box that is half OS and half LZ.
For the real fanaticos that want to convert a tree to Keitt... This tree was trimmed today. The cuttings are on the ground and can be sent out tomorrow. Same price as up above.
________________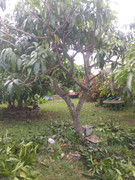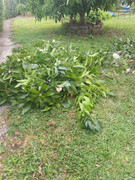 Top two show Keitt tree and the trimmings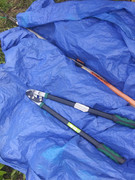 Tarp over the LZ trimmings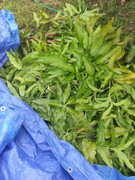 LZ trimmings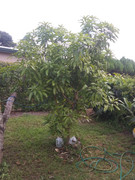 Orange sherbet tree