1
« on: June 06, 2022, 01:59:23 PM »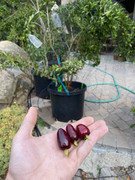 I multi grafted my CORG for cross pollination, but also comparison. From L-R, ScottRís variety, Benís Beaut, and mine which is a seedling from Exotica.
They all came off with a slight touch so should be similar ripeness. Robís is a well balanced sour sweets, Benís a bit sweeter but still some sour, and mine even not as dark red is just pure papaya sweetness.
I also grafted some Garnet from Kevin Jones up top and look forward to that.
Also have an El Dorado seedling from Marcos and that one is very unique in that it has a eugenia funk sort of like the resinous flavor in in Pitanga. I found it more complex, albeit with much smaller fruit.