1
« on: December 02, 2023, 04:55:30 PM »
Ilya,
are Dunstan friuts better than 5 Star-fruits? And do you know #82 from Eisenhut aswell?

Best Regards
Robert

Robert,
I have 82, but it has not flowered yet.
I am able to compare 5star and Dunstan because I have both of them on own roots growing close together. 5star was also harvested last week but some of its fruits still had some green specks.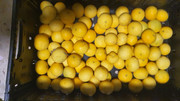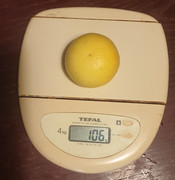 Fruit smells good but different from that of Dunstan. The proportion of juice is also less and you need more pressure to extract it.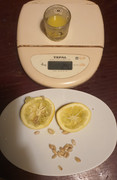 It is more sour, less bitter with 12°Brix. No poncirus aftertaste at this stage.
In the past I noticed that fruits of 5star can be kept for several months in the basement at ~12C and improuve their quality without drying. At the end of March there is almost no bitterness.
Fruits of Dunstan are drying more rapidly and start to rot by the Christmas time. I also noticed that 5star juice bitter taste is due to the presence of small pieces of membranes, it can be totally eliminated by keeping in refrigerator for a few days. These pieces form a bitter bottom layer.