1
« on: September 13, 2021, 04:56:28 AM »
It seems to me there are many fascinating Syzygiums in Australia and New Guinea that get no attention due to their rarity and also as they have not been brought into cultivation. The Lilly Pillies of Australia that are in cultivation are perhaps not the finest ambassadors of their genus. I think of S.cormiflorum, S.wilsoni and S. fibrosum having strong but different claims to fame in my local area. If we go rarer and more restricted what about about S.erythrocalyx?
In my wanderings today I stumbled across one and thought wow.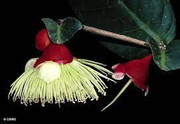 Do the flowers make the grade? You bet they do
Is the tree small and attractive. Heck yeah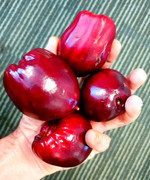 Are the fruit in that handsome paw big and edible? They sure are and some fruit were quirte pleasant and others a little sour. Stay tuned for whats inside the fruit.