1
« on: January 27, 2015, 03:36:32 AM »
I just want to share this information about Indonesian new mango variety.
It is result of almost 12 year breeding program. this mango released under name "Agri Gardina 45"
its parent was Harum Manis X Saigon.
Harum manis considering as one of indonesian best tasting mango but its green color seems become a problem when it comes to export.
Saigon is a variety introduce from India, and i think it is different than Saigon cultivar that few time mention in this forum.
overall the taste was resembling the Harum manis and the peel color is blushing red, but i think the size would be another problem.
But i found some interesting character about this mango...it dwarf and very early bearer...and its have some ability to induce flowering of the tree where its scion grafted on to...even juvenile rootstock can induced to flowering...i will try an experiment use it as interstock...lets see how it work to juvenile scion that grow from seed.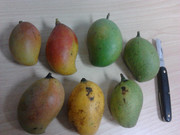 Ripe and unripe fruit, the fruit need to exposed to sunlight for the red color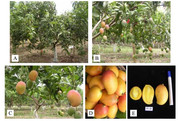 prolific producer and dwarfing habitus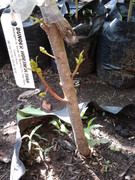 this is an approach grafting tree...the (juvenile) rootstock induced flowering at the time as the Agri Gardinas