1
« on: April 12, 2021, 06:02:00 PM »
This seedling from an N1tri (poncirus x ichang papeda) hybrid was planted out in late September last year.
It's now April, and you can see that it is fried.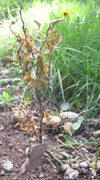 This is very surprising because many of my other hardy citrus look good, kept their leaves and the leaves still look green now. Varieties that should have been less hardy than this one.
This was also planted right up against the side of the house, so that should have helped too.
What I think the explanation is, this was growing under artificial light indoors before I transferred it out. The leaves had not experienced cold yet and were not adapted to it. Even though the plant had several weeks time of cold before any freeze came.
What I think this demonstrates is that plant tissues adapt to cold as they are growing. If a plant's tissues have not experienced any cold yet, those tissues will be vulnerable to cold. Even cold that never goes below freezing. And even if it is a hardy variety of citrus that otherwise should have a very high cold tolerance. Hardy citrus require a long period of time to adapt themselves to colder temperatures.
Suddenly transferring the plants from warm growing areas to outside colder areas can be problematic.
It is of course also possible that these particular seedling did not get very good genes for hardiness, since there is some randomness when one grows from a seed, but it's hard to imagine that being the case here.
zone 8a, Pacific Northwest, relatively mild winter in terms of how low temperatures dropped, maybe 22 to 24 °F (-4 to -5 °C ) was the lowest point.