1
« on: June 27, 2021, 11:50:00 AM »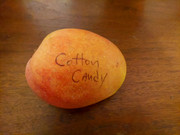 My tree is also fruiting for the first time this year, and has about 40 mangoes on it, I was also not familiar with when to pick them, one day this one colored up almost over night, so I picked it, it was still very firm, today it had a nice aroma, and a slight give, so decided to cut it open, it had terrible jelly seed, and the outer portion that looked normal, was a bit under ripe, although it did taste good, but there was not much to eat.
I cut open another one that had just changed color today, same deal, Jelly seed galore, I have a Pickering not 12 feet away, and the mangoes are perfect this year, my Edgar tree also did not have any jelly seed, none of the trees were watered and all had the same ammendments given to them.
the only difference I can see is that, we had plenty of rain, and this might affect this variety more than the others.
I wonder if picking them at the mature green stage (or at the lighter green color stage yours are at) would help with the internal disaster.