1
« on: July 01, 2021, 03:43:09 PM »
At first a hole developed in the fully lignified bark just above the soil line and I didn't think anything of it. Maybe I had damaged it somehow? Then I thought it might be a rodent, so I put some hardware cloth around it to protect it. But the hole didn't have any gnaw marks on its edges.
Then yesterday I noticed areas of young, unlignified bark that look like they're being skeletonized by some creeping pathogen.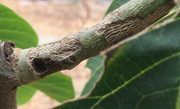 Anyone seen this before? The leaves look healthy, and there are no oozing cankers. I'm getting rid of the tree (easy, since it's in a pot), but I need to know about this in case it starts up on another tree.
Help!