1
« on: July 18, 2021, 01:20:48 PM »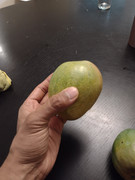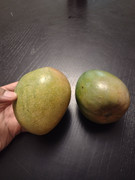 Got a few mangos through a person I know.
They said it is a Brazil mango and the tree is dwarfish.
It's fruiting now so maybe slightly late season.
I thought it might be itamacara but this was a classic tasting mango.
I assume it planted by seed but it might be poly.
Anyone have a clue as to what it could be.
It's actually pretty good. And fiber free.